A lot of people really like playing games SimCity where they get to design something. There's an element to it that lets you get things done without getting worked up. The original SimCity is one of the greatest city-building games available. Electronic Arts has been making simulation games since 1989 with SimCity BuildIt. Many Sims games have followed in its footsteps, and they remain popular today. The goal of SimCity is to design your own city from scratch, down to the locations of individual buildings.
The popularity of SimCity inspired a slew of imitators, all of which focus on city-building. You can't say you blame them; SimCity is a fun and relaxing way to spend some free time. Listed below are seven examples of such games that you may find interesting. The gameplay is similar to that of SimCity, but they add their own unique elements. The greatest thing is that you may enjoy them without spending a dime!
1. Block Craft 3D
Block Craft 3D is a fun and free interactive construction game you can play with Games if you're seeking for a SimCity alternative that uses Minecraft-like visuals.lol. Fun Games for Free created an interesting game that will get your imagination going. In this game, you'll use bricks to create your very own megacity. Make everything your imagination can conjure: structures, sculptures, homes, etc.
2. Idle Island – City Building Idle Tycoon
Idle Island is a city-building game where you get to develop your own island. It was made by RSGapps – Idle Tycoon Games. You may expand your company and make more money on your island. The idle mechanisms set this city-builder apart from others. In addition, if you want to be a business magnate, this is the finest game to play. With the help of Idle Island, you may follow your entrepreneurial passions and rise to the top in your field.
3. Megapolis: City Building Sim
Build your own fantastic city from the ground up, complete with towering buildings. Infrastructure includes control buildings, roads, homes, factories, and power plants. Social Quantum Ltd gives you the opportunity to run for mayor in a simulated city.
There are over 700 different buildings in Megapolis just ready to be built, and you'll also have access to a wide variety of tools. It also has a sophisticated 3D mode and a multi-player mode. Its novel approach to resource planning made it stand out from previous city-building games. So, keeping the right amount of light, water, and people in your city is essential if you want it to continue expanding.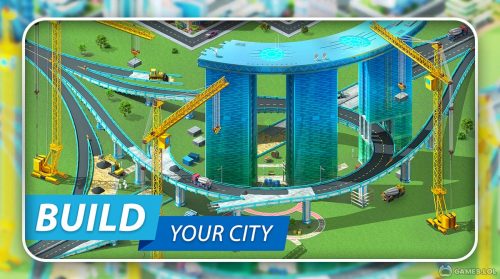 4. Village City – Island Simulation
Village City – Island Simulation PC has stunning images that will blow your mind. The animation of every character, vehicle, and building is so smooth that it even incorporates emoticons, which ups the entertainment value. The music and sound effects accompanying it create a genuine tropical environment. Your island will grow from a peaceful fishing village to a bustling city before your own eyes.
5. City Island 3: Building Sim Offline
Play this amazing simulation game and create the city of your dreams! In City Island 3, you may develop not just one, but many towns over a single archipelago! It's the type of game where there's always something to do, like building a bunch of islands at once. Let's see what you're capable of in City Island 3 if you let your imagination run wild.
6. LokiCraft
If you could construct whatever you wanted, why settle for houses and apartments? Developed by the same team as Minecraft, but with several key differences, LokiCraft is still a construction simulator. You'll need all your imagination to build your own unique blocky environment in this game. You are free to design and construct whatever you can imagine. It's a survival game with a construction component. In LokiCraft, you may avoid monsters and pursue your dreams.
7. Snoopy's Town Tale
Snoopy's Town Tale, a city-building and simulation game, is the brainchild of PIXOWL INC. Your mission is to build a town inspired by the Peanuts comic strip. All the classic Peanuts characters will be there, including Snoopy, Charlie Brown, Linus, Lucy, Peppermint Patty, and many more. The new people who will be moving in next door are just one of the many exciting things that are in store for you. Get some fresh air and see the world! You must complete missions and chores to ensure the town continues to grow.
These are just a handful of the many excellent PC games that serve as viable SimCity substitutes. The games share the goal of allowing you to create your own city, but they also have distinctive gameplay elements that are likely to captivate your attention. Drift Hunters allows you to choose the greatest PC games for you and download them for free.